We provide turn-key carriage houses which can be built as a separate dwelling on your existing property.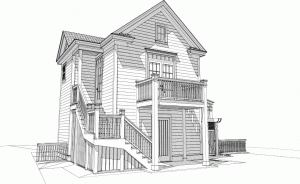 Many municipalities allow in their zoning laws "Accessory Dwelling Units" or ADUs also commonly known as carriage houses to be built on your property in addition to your main house as long as they are under a certain square footage.
Please feel free to contact us to find out if your zoning would allow you to build a carriage house.
There are many advantages to building one of these carriage houses such as providing additional rental income or providing a place for family or elderly or yourself to live comfortably or even to provide a home office.
Below are some potential uses:
Rental apartment for additional income
Guest house for friends and family visits
Mother-in-law dwelling
Separate dwelling for family
Elderly accessible dwelling
Art studio dwelling
Yoga studio dwelling
Home business office
Workshop
Game room or hobby dwelling
Storage
Bar or entertainment dwelling
Carriage house